Metal processing services
Stainless steel and aluminum material processing
Sometimes you need more than just the stainless steel or aluminum stock — you need metal processing, too. Whether it's metal cut to length for transportation, machinery, or end-use needs, stainless steel polishing to create a lustrous surface, or other metal processing, you can find what you need at Cumberland Diversified Metals.
We offer a wide variety of stainless steel and aluminum metal processing services, including the specialties that you'll find listed below. Want something you don't see listed? Contact us and we'll do our best to get you what you need.
Contact us
Metal shearing

Metal shearing is the process of moving a straight fixed blade, called a punch, past a fixed straight blade, called a die, until the shear stresses on the material create a clean tear along the length of the material. Our metal shearing services cut your metal flat stock to the size and quantity that best meets your needs.
See shearing
Cut to length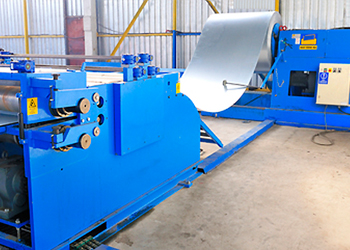 We offer stainless steel or aluminum coil cut to length to create stainless steel sheet, aluminum sheet, stainless steel plate or aluminum plate to your specifications.
View info
Metal slitting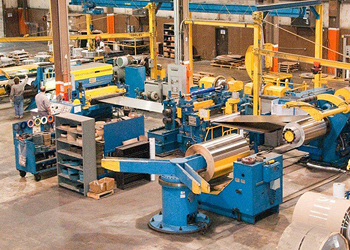 Metal slitting is the process of cutting wide aluminum or stainless steel master coils into narrower width coils by passing them through circular knives separated by spacers that size the metal to your specifications. The slit coils can then be used to speed up additional processing and increase precision.
Learn more
Stainless steel polishing and protective film

Stainless steel polishing is an abrasive process used to create a lustrous but not mirror-like finish on the surface that can be applied to either one side or both sides. We apply Medium Tack Black and White PVC as standard protection after stainless steel polishing. We also offer Low or High Tack, Nitto Laser or Paper Interleave.
Explore polishing/film
---
For details regarding width, length, gauge, and OD/ID tolerances and specifications:
Please contact us at 216-595-9222.