New Direction
Cumberland Diversified Metals has decided to change their logo after using their original design for more than 20 years. We were looking for a fresh design to reflect the new ownership and direction of the organization. Besides the obvious changes, we changed the brand colors and type fonts.
The new design is more reflective of our brand and company atmosphere than the original, yet keeping the same strong and simple feel we felt the original red and black logo held.  It was time for a change, and we're excited about the new direction.
Logo Symbolism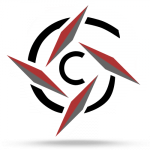 In the middle of the symbol is a "C," which simply stands for Cumberland. Spiraling outwards from the "C" is a black coil inspired by the metal coils we proficiently buy and sell. The 4 "diamonds" surrounding the "C" were added as an inspiration from metal rivets and introduce a new color to the mix, gunmetal gray. The red color is a much deeper, more modern red, reflecting our hard work ethic and entrepreneurial attitude.
The new logo and the new web site were designed by GHI Internet Services, a web design and Internet marketing company headquartered in Medina, Ohio.